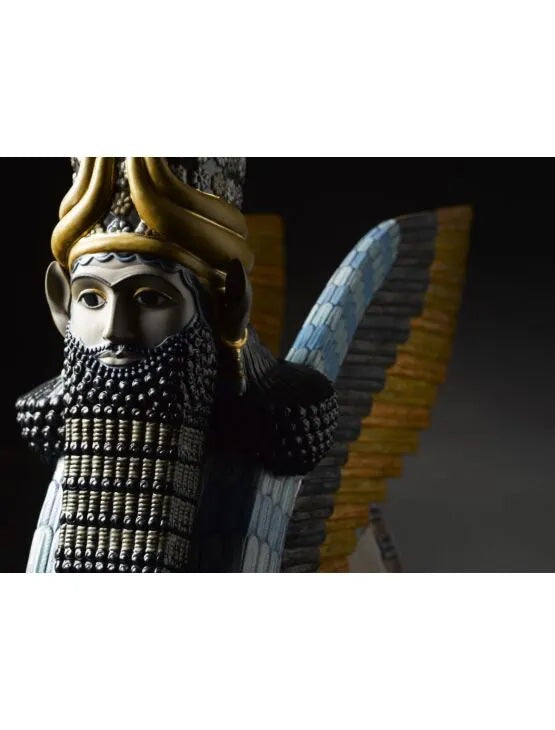 01001946
Sculptor: Marco Antonio Nogueron
Year Issued: 2010
Finish: High Porcelain
Height (in): 20.00 / 51 cm
Width (in): 20.75 / 53 cm
Limited Edition 750
Base included.
The striking presence of mythological beings flanking the Ishtar Gate at the walls of Babylon inspired the artists of the Lladró High Porcelain workshop in this powerful sculpture, richly decorated with golds, lustres and a vast wealth of colours and textures. Lamassu is the name of the winged bulls with human heads guarding the entrance to the royal palaces of the ancient Neo-Assyrian empire. With their imposing presence on both sides of the door, they symbolised the supernatural powers of kings, drove away evil and attracted good fortune. Each of the elements of this mythological creature is reproduced with great artistry in this limited edition: the wild bull of Mesopotamia hunted by kings, the eagle representing the monarch contemplating his subjects, and the human brow crowned as an allusion to his intelligence and divinity. In the embellishment of the piece, blue tones are highlighted, with turquoise reminiscent of lapis lazuli and gold as a symbol of wealth, all applied with great precision by hand. New lustres are combined in cobalt blue and brown, in addition to a combination of matte, gloss and satin finishes.