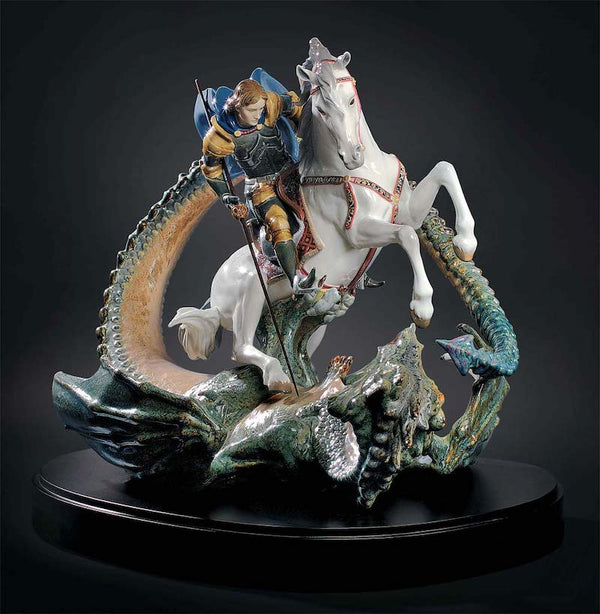 Saint George and The Dragon
01001975
Sculptor: Alfredo Llorens
Year Issued: 2015
Finish: High Porcelain
Height (in): 24.75 / 63 cm
Width (in): 35.00 / 89 cm
Limited Edition 350
Base included.
Saint George is the prototype of the medieval knight and one of the most venerated saints of Europe. Artists of the Lladro High Porcelain workshop have created this spectacular interpretation of his legendary adventure with the dragon in a limited edition which stands out for its dynamism and the technical virtuosity of its execution. The scene shows the hero fighting with a fierce creature in order to free the king´s daughter, who was to be sacrificed to satisfy the demands of the monster. In the decoration of the piece, the richness of enamels stands out, with roughly twenty different tones applied to the dragon and the depth of textures accentuating the modelling and providing it with volume. In contrast, the knight displays more gentle treatment, softened by his light skin and Apollonian features. This contrast is reinforced by the white horse, a symbol of the nobility, bravery and loyalty necessary to defeat evil.